"Living in BSN" By Vladimir Khachaturov
Hi everyone, my name is Vladimir and I have been living in BSN since August 2018. After getting enrolled in BI, I applied for housing, 3 different options and BSN was the priority one. As a result, I got lucky and BSN provided me a room in a double flat.
I am living with a neighbor and cannot complain, because the flat is big enough for both of us. We both have separate private rooms and share kitchen and bathroom. When I was moving in all needed furniture was already in the room, just needed to buy some household appliances. Well, I should say that flats in BSN are in very good condition and moreover when you are moving in, during the first week you should fill out moving in form, in case your room or flat have some damages and BSN will immediately repair it. Another very important advantage aspect of BSN is its location. It's very close to BI, 5 minutes' walk, consequently the same time to get to the Nydalen metro station. Moreover, there is also the Storo Shopping Mall which is a 5-6 minutes' walk from BSN. In there, you can find whatever you need, from food to electronics.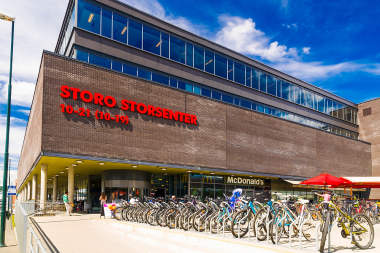 All in all, I would like to say, that if you have an opportunity to get an apartment in BSN, go for it, because it contains everything you need: affordable price, housing in a very good condition, best location.
"Living in Kringsjå" By Yelyzaveta Dovhinka
In August 2018, my plane landed in the airport of Oslo, where pouring rain and fresh air greeted guests from all the corners of our planet. The path ahead would lead me to Kringsjå, the biggest international student dormitory in Oslo, according to Wikipedia. That meant that I would be always surrounded by young people from various backgrounds, probably, very different from my own. That was both exciting and thrilling. In other words, the setting in huge dorms like this pretty much depends on your karma. It seems that I have a good one, that is why my flat mate is merely perfect, the house is 1 minute away from the T-bane (Oslo MRT system) and KIWI, the only relatively big supermarket nearby.
If you as an international student choose Norway for the next couple of years, you apparently enjoy nature. If you choose Kringsjå as your home for this couple of years, you are in the right place to satisfy your cravings for hiking, jogging, swimming, having BBQ and enjoying Norwegian nature every time you get out of T-bane train. There is a stunning lake in Sognsvann, a mere 5 minutes walk from the student village. For joggers: the distance from my house to go around the lake and back home is approximately 5 kilometers. So it is a perfect way to keep fit and healthy not going far from your place. It is vital to mention that these days Kringsjå village underwent reconstruction, so we can access new laundries and studying rooms easily. Also there is a café UNION 864 near KIWI, where you can chill on Friday night or have a meal during the day. So you can notice that Kringsjå is a village with a lot of facilities and nice location (in case you prefer forest to the city centre). What about commuting time, it takes approximately 25 minutes from Kringsjå to BI, but be prepared to switch a platform (which includes heavy 1-minute cardio) at Ullevål stadion.
All in all, I wish you, my friend, a pleasant time at BI and a cozy room in Kringsjå. Good luck!